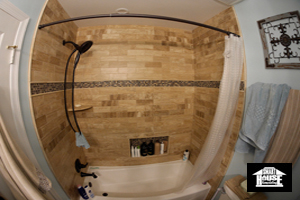 Back-2-Back: 2 Bathroom Renovations
... in 3 weeks!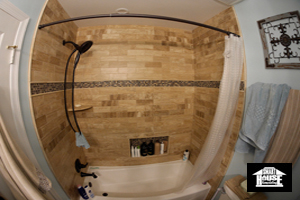 Back-2-Back: 2 Bathroom Renovations
... in 3 weeks!
Today's bathrooms are all about style!
From elegant and gracious powder rooms to guest bathrooms, basement bathrooms and master suites. Style is seen in every bathroom and it's always personal. The enormous variety of fixtures, bathroom vanities, bathtubs, shower doors and everything else available out there offers the potential of unlimited customization. You can truly make a bathroom yours these days!
Let's not forget that not too long ago the bathroom was looked upon as a utility room and not much more. In today's bathrooms, due to innovative design and creative technology, the bathroom is not just a sanitarian room, but also a place to relax. A small sanctuary from the busy life we live and perhaps a place we put our thoughts together. A place of commodity and comfort.
Planning your bathroom renovation is often the most enjoyable aspect of the whole remodeling process. It is also one of the most important steps you should do if you're planning a bathroom renovation anytime soon.
A well planned project goes smooth and without delays. On a well planned renovation the results are always exactly what you desired or as close as it could get. Good planning also ensures that you won't have to rush to the local hardware store in panic and having to pick something on the fly, because your contractor is waiting and needs the part!
One of the most important keys to planning is to define your needs and desires according to your home and budget. See what you can do yourself and what should be left for the professionals. You can save a lot by taking care of the leftover debris after the renovation. You can save by painting the bathroom yourself. You can save by hanging your mirrors and hardware. It all depends on how handy you are and how comfortable you are with doing these tasks. Hire professionals for the parts of the renovation you don't feel comfortable with. And for your own sake, if you have never install tile before hire someone to do it for you. That's a personal advice, take it as you wish. Now the images bellow are from bathrooms we fully remodeled. If you like what you see and you're intersted in a quote on your bathroom renovation, contact us!  🙂
The images bellow are from a job we completed early this year in Alexandria, VA. Remodeling two bathrooms at the same time saves money and also time on the renovation! Both bathrooms were planned out to every little detail and all materials were present at the house, before the renovation even started. Less trips to the local hardware store is always a good thing!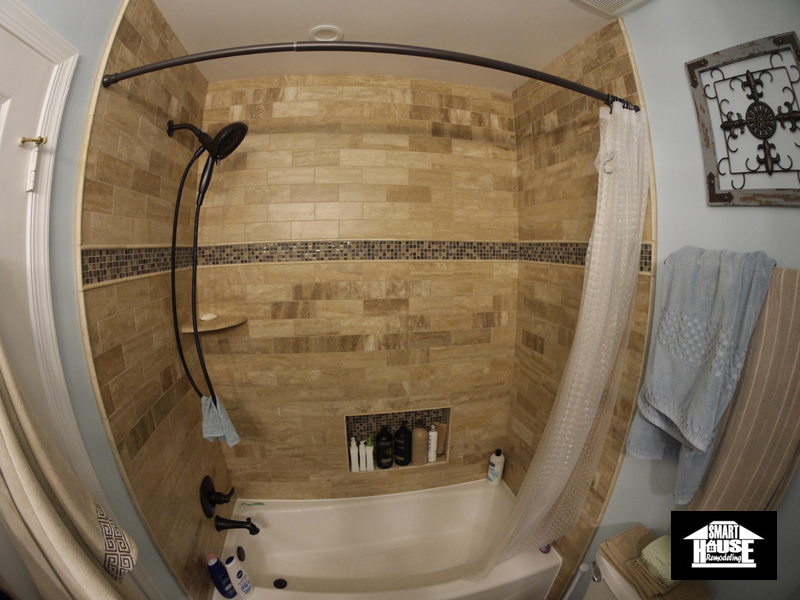 Well thought traditional style bathroom.The tile is travertine stone – 6 inch by 3 inch. Decorative "pencil" travertine tile separates the glass and stone mixed mosaics from the rest of the tile. We also constructed a very convenient recess niche for shampoo and body wash bottles. These are so much more useful than the traditional soap dish. The black finish on the fixtures brings a old rustic feel to the whole bathroom. The ceiling lights we installed are 4 inch recess lights rated for damp locations and providing plenty of light in the bathtub area. This bathroom turned out amazing and it's a perfect example of the quality of our work.
The basement bathroom was more simplistic, but does not lack style. All the fixtures were replaced with the same bronze/rustic fixtures as the top level bathroom. The tile is mosaic ceramic squares incorporating a decorative line of fine mosaic tile going along the shower walls. Pencil tile was used as a separator between the different layers of tile. The small mosaic squares where an excellent choice for this small bathroom. While in open spaces small squares look busy, in small bathrooms they create the illusion of space and make the bathroom appear larger. The mosaic tile was a pain to install, but in the end the result was totally worth the efforts. Soft Green walls contrast with the tile and make everything just pop. Complement the bathroom with some nice artwork to your taste and this is the final result. Stylish, rustic and simplistic.