After 5 long weeks of hard work, we finished one of our best bathrooms!
This bathroom was a real challenge. Here we manged to combine small subway tile, glass tile, marble and natural stone into one of our best bathroom creations!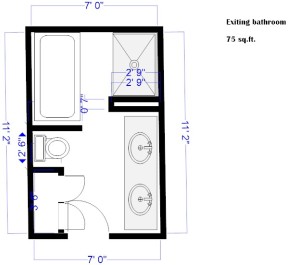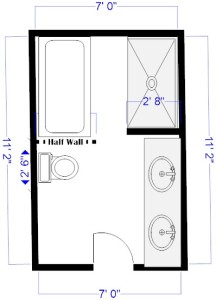 The homeowners wanted an open concept bathroom. A bathroom with a lot of natural light and sleek design…
The bathtub was enclosed with a partition wall which was covered in wallpaper. Maybe cool and charming for the 80`s, but completely dark and outdated for today's standards. The small closet behind the entrance door made no sense at all as well. Some people might argue here that there was a functionality to it, but at the end of the day it was just an eye sore which was taking a lot of extra space in the already crowded master suite.
What we did is – We completely removed the closet which opened up the whole bathroom. If there is any storage issues for towels in the future a free standing piece or small custom shelving will do the trick and still leave the space open and pleasing to the eye.
We also cut down the bathtub wall in half and opened up the space to more natural light. This alone made a huge difference by making the bathroom more inviting and appealing from the door.
We also enlarged the shower and added frameless glass shower doors to it and a custom tile bench which made the shower widely accessible and comfortable to use.
The bathroom remodeling in Kingstowne Alexandria, VA was completed few weeks ago, but being extremely busy with work I finally managed to write the post. Thanks to the homeowners for their patience and congratulations on their amazing master bathroom suite. We put a lot of effort into this one and the result speaks for itself. Look at the gallery bellow for before and after photos and contact us if you're looking for a bathroom remodeling specialist.