Home remodeling project including full bathroom remodeling and laundry room addition in Burke, VA. We do remodeling work in Northern Virginia. Free quotes. To get in touch call/text 703-940-6260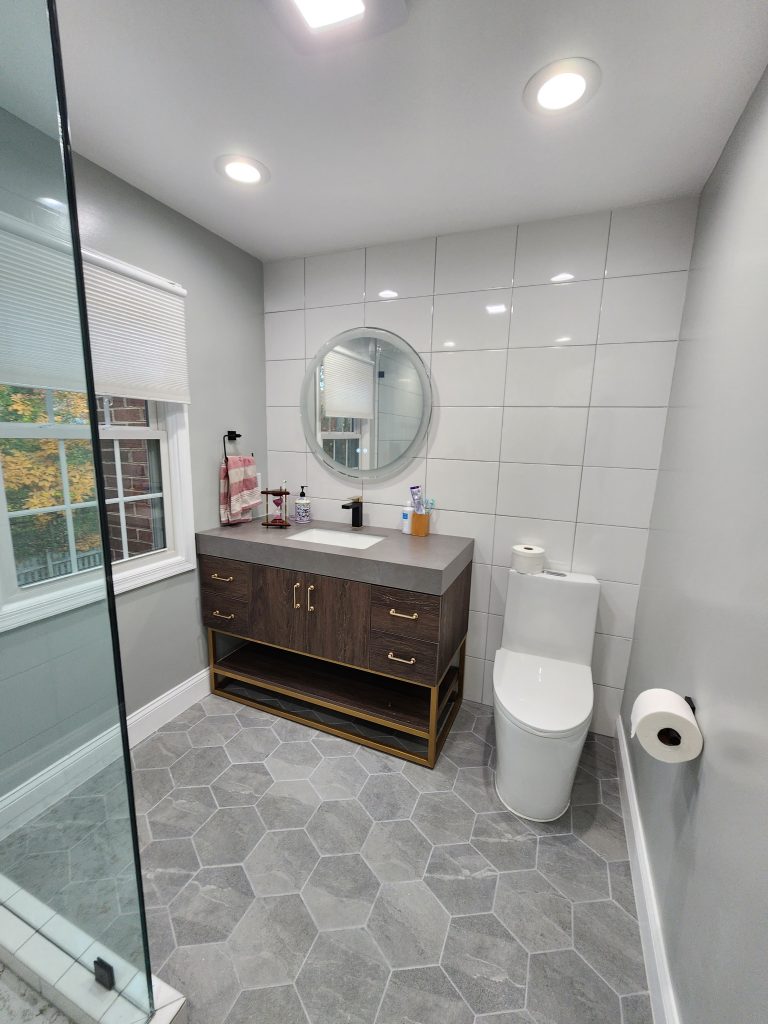 James and Valery wanted to have a new bathroom and a laundry room added to the second floor. With the new laundry room addition they achieved a homeowner's dream of not having to go all the way to the basement on laundry day. Adding a laundry room on the second floor makes doing the laundry a breeze. If you have your laundry room in the basement of your home and you would like to relocate it somewhere closer to save on some time and energy Get in touch and let us know. We have had multiple projects like this and we can help.
In regards to the bathroom remodeling portion, The bathroom was one of those 1980's bathroom's where the space is literally wasted by a huge make-up table. How many people these days are actually using make-up tables right in front of their bathrooms? It makes you wonder… With that in mind, the homeowner's wanted the laundry table gone and the space incorporated in the bathroom making for a bigger more practical space.
We moved few walls around and opened up the floor. We installed a big stand up shower, which we finished with small mosaic tile on the floor and 16×8 porcelain white tile on the walls arranged in a standard contemporary stile pattern. Clean lines, no busy patterns. Simple and classy. We used the same tile from the shower walls behind the bathroom vanity as well. The project was completed in 7 weeks from start to finish, but we could have finished it earlier if there were no delays on the bathroom vanity and bathroom inspection delays. A project like this takes approximately 4-6 weeks to complete from start to finish with all the bathroom fixtures being present on the job site. Regardless, everyone was happy in the end and the final result of the bathroom renovation look stunning.
If you are living in Northern Virginia area and if you are looking for a home remodeling company get in touch with us for a free quote on your home remodeling project. We are a small local business dedicated on providing 5 star quality service in the NOVA.
PRICE: $20,000 – 25,000