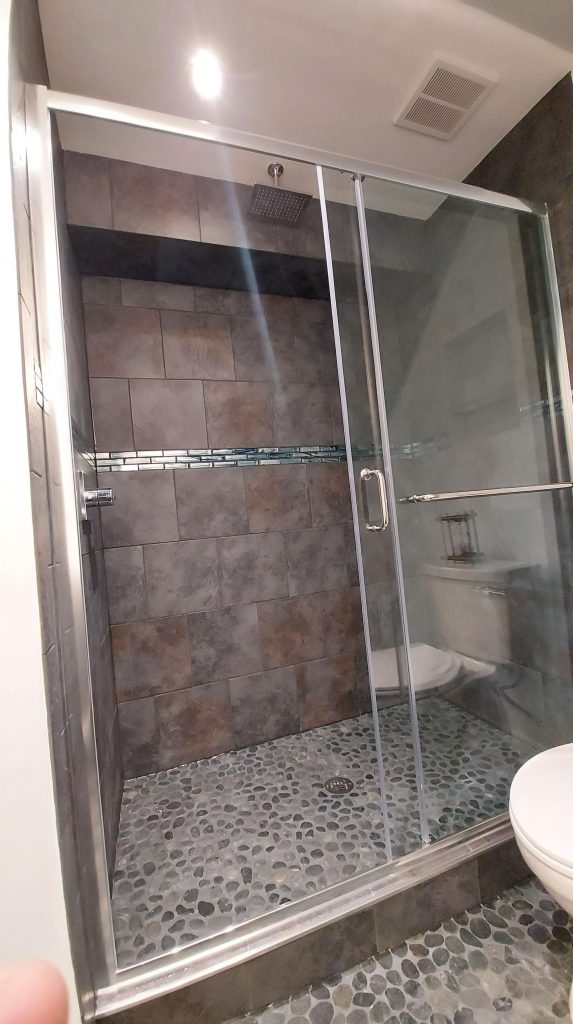 We're thrilled to be back in action, and what better way to make a grand re-entry than by showcasing our latest masterpiece! Just last week, we wrapped up a sophisticated, highly functional bathroom project in a previously empty basement. We started from zero—literally installing plumbing, electrical systems, and proper ventilation from the ground up. But that's not all; we even installed an ejector pump to ensure flawless functionality.
The design elements we used are worth noting: from a stone shower floor that transports you into nature to eye-catching black octagon tiles that add a dash of modernity to the bathroom floor. The wall tiles? Pure classic ceramic, serving as the perfect backdrop for the rustic vibe our client desired.
And let's not forget the practical yet stylish touch—our custom-built recessed nook. This ingenious addition ensures that your bathroom essentials like shampoo and conditioner have their own dedicated space, without cluttering your shower.
If our work has caught your eye and you're in Northern Virginia, we would love to hear from you. Contact us directly at 703-940-6260 to schedule a free consultation. Let's work together to turn your dream kitchen or bathroom into reality!
Price range: 17-25k