There are many ways to achieve a nicely decorated bathroom. A beautiful design attracts the attention while providing a relaxing and comfortable ambiance. A decorating idea can be as simple as choosing wood tones to picking an artwork that matches the rest of the bathroom. Whichever it is, it's up to your personal preference. Bear in mind that the modern bathroom trends toward a minimalist and bare design, using well placed fixtures and accessories to accentuate and enhance the beauty of its inherent design.
A few aspects come into play when looking for decorative ideas for bathrooms. The colors, flooring, fixtures and lighting all have an important role to play.
Colors
Pick neutral or soft color palettes to enhance relaxation and peace. Use a color wheel to find complementary colors that can add life to your bathrooms. Wood tones are also quite useful in providing a nice, inviting layer that enhances the warmth and depth of a bathroom. However, modern bathroom designs utilize muted, monochromatic colors, with all-white being a common choice. You could add a splash of bold color on a feature wall to accentuate the bathroom. Red, orange or lime green are great choices. If employing a lot of wood tones, bring a sample of it when picking a paint color.
Tiles
The tiles that are suitable for bathrooms come in an assortment of varieties, textures and colors. Ceramic, porcelain, vinyl, linoleum, cork, stone and glass tiles all has it functions, as well as advantages and disadvantages. Find beautiful patterns that mix well with the rest of the color scheme, like granite or marble tiles that makes a counterpoint to the monotony of the walls. The 6×6 wall tiles are outdated and scream 70's from just a look. Pick an interesting tile pattern. Browse our blogs and find something that matches your taste.
Surfaces
Think clean lines. Uncluttered and neat. The epitome of a modern bathroom is the abundance of natural elements like wood and marble. Shiny laminate surfaces can be used on ornaments or fixtures like cabinets. Wood tones that exhibit strong grain patterns in shades of deep blacks and browns look good too.
Lighting
Many modern bathrooms use recessed lighting to keep up with the minimalist theme. When a light fixture is placed overhead, usually over a vanity table, it tends to be statement pieces with unusual shapes or exotic looks in chrome or brass that echoes the faucets, sinks and complements the surrounding environment. Sconces provide nice addition above a vanity with chrome and nickel finishes as well as straight lines.
Accessories
Extraneous accessories look out of place when placed in a modern bathroom. But a few statement pieces will provide a great look to your space, while adding a touch of character. An sleek stool, a work of art in black and white or abstract patterns will do wonderfully. Sufficient storage should be installed to keep the clutter to a minimum.
Windows
Windows tend to be minimally designed and unadorned so as to complement the rest of the bathroom. If you require some privacy, pick simple, high-quality Roman or roller shades in pale colors or metallic weave.
Sink and fixtures
Sink and fixtures come in a wide array of sizes and styles to complement a variety of modern bathroom looks. You can opt for a vessel sink that rest atop a vanity or a traditional undermount model that rest atop a granite or marble vanity that will attract the eye. A nice touch would be chrome or brushed nickel faucets. For example, a sculptural vessel sink pairs nicely with a high arching faucet or faucet with waterfall flow.
Flooring
Tile, tile and more tile. The bathroom is the room in your house which gets the most water, moisture and highest humidity. Over the years I have seen all kinds of crazy ideas for the bathroom floor. From pink carpet to hardwood floors and laminate flooring installations. Carpet has no place in a bathroom and hardwood and laminate flooring in my opinion is useful only in half baths where you don't get that much water splashing and not that much humidity. Still, tile is your best option for any bathroom floor. The floor's color scheme is usually tied with the color of the walls, creating a monochromatic effect, although a contrast is also used at times. Printed designs or unique granite and marble textures enhance the luxurious feel of the floor. Large slabs of granite or slate are often used for the floors in contrast with mosaic tiles on the walls.
Tub or a shower?
Tub or a shower? Very commonly asked question. A lot of people prefer showers, but your bathroom can look mother with either. If you chose a shower instead of a bathtub you can make the space appear bigger. On other hand you're losing functionality and if it is the only bathroom in your house you might lose value as well. Floor to ceiling glass walls stalls are common choices that reflects the minimalist approach well. For a budget friendly alternative, sliding doors work too. There are different options for your glass doors which you can choose between. Frosted glass is not that desired anymore. Most of the modern bathrooms incorporate clear glass which also gives the illusion of extra space.. There is also a great variety of bathtubs to choose from. Modern bathrooms usually use white porcelain tubs that are extra deep, possessing a contemporary shape.
Mirrors
Mirrors provide a great way to make your bathroom look bigger and sleek. Pick unadorned mirrors with a thin strip of silver or a thick, straight edge wood frame painted black or white. Brushed nickel and chrome makes nice border if it matches other fixtures like faucets and shower heads.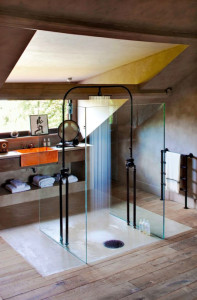 Storage
Storage is important to keep the clutter out of the way. Having clutter in the bathroom will spoil the effect of the minimalist design. Store unused items in storage spaces when rather than leaving them lying around. Vanity drawers, free standing shelves and storage cabinets should match the overall theme of the bathroom, but could also provide a deep contrast for breaking up the monochromatic look.
Gadgets
Modernity has brought interesting gadgets that can great increase the comfort and ease of using the bathroom. Towel warmers with nickel brush design complements faucets and shower head with the same color, lights, creating uniformity and neatness.
Plants
Consider adding potted plants in your bathroom. The green leaves works nicely against a starkly monochromatic background, as well as adding a fresh and beautiful object to look at. Pick small, easily removable plants that can last being indoors with thick foliage. Flowers usually wouldn't last in the humid environment and lack of sunlight.